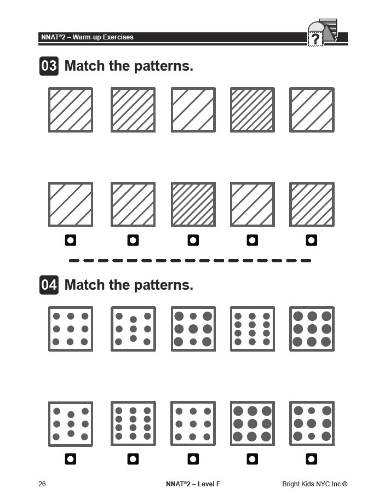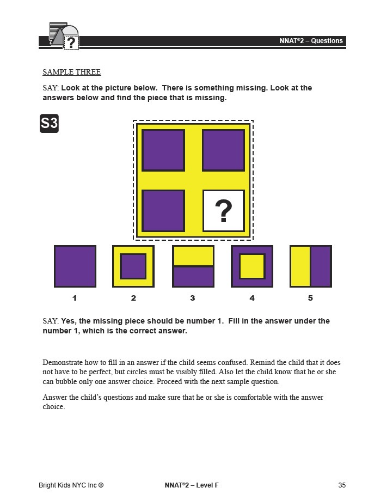 NNAT 2 Practice Test Level F - Test One (7th - 9th Grade)
The Naglieri Nonverbal Ability Test – Second Edition (NNAT®2) is designed to provide a nonverbal measure of general ability, and is administered for placement into gifted and talented programs throughout the country. NNAT®2 items do not require the student to read, write, or speak, so students must rely on reasoning and not on verbal skills to solve the problems presented to them.
Just like the actual NNAT®2 test, there are a total of 48 questions on this Level F practice test for 7th, 8th and 9th grade. We have also included 20 additional exercises to ensure that children become familiar with the types of questions that will be on the NNAT®2. Understanding the content and the format of the test will enable children to perform to the best of their ability on test day.

Shipping & Returns

Shipping & Deliveries

Orders placed before 1 pm EST will ship the same day. Once your order ships, you will receive a notification and a tracking number. Orders are shipped Monday through Friday, excluding federal holidays.

Although we do our best to get your package delivered as early as possible, Bright Kids NYC's packages are still subject to FedEx, UPS, and USPS delivery policies. Our staff can make recommendations, but cannot make guarantees, as to specific delivery dates.

Walk-in Book Purchases

A limited supply of our books are available for purchase in our tutoring office. Our current office hours are listed on the contact page for Bright Kids. We recommend calling or emailing in order to confirm desired books are in stock before arriving. 

Order Cancellation Policy

Orders cannot and will not be cancelled once submitted. No exceptions under any circumstances. Orders cannot be modified after submission.

Returns

If you wish to make a return from an order purchased at bright-kids.com, please email books@brightkidsnyc.com with your order number and the books you wish to return, and a return shipping label will be provided.-Publications returned in new, unused condition and in the original shrink wrap within 14 days or less from date of tracked delivery are refundable.NO​ ​Refund​ or exchange will be issued if the plastic seal covering the publication has been broken.-NO​ ​Full or Partial​ ​Refund​s or exchanges will be issued for product bundles, purchases made with sale codes, Clearance products, or PPE products.We can decline a return or exchange at our discretion.-Thank You!